In 2007, Amy Glass, award-winning mosaic artist, made her first mosaic. Her passion for the art has taken off ever since. What started as a hobby turned into a ministry, which has now turned into a business. She loves taking something broken and turning it into something beautiful.
Initially, Amy taught family and friends. As her workshops grew, she began hosting private groups, including Bible study groups & birthday parties. Since 2011, she has had 200+ ladies per year in her studio making mosaics.
In 2016, she opened Broken By Design Mosaics, which sells handcrafted mosaics and offers mosaic workshops. Though she loves to create art in her mosaic creations, her real passion is teaching the mosaic workshop. Join her soon on her next adventure in the classroom. 
Amy Glass is the mother of six, supported by her husband, Rich. She loves to touch lives through art. Her goal is to give God glory in everything she does. 
Handcrafted Mosaics
Amy creates mosaics for sale in her stores at the Richardson Mercantile and Lone Star Mercantile. Products include:
Faith-Based Mosaics – crosses, angels, Star of Davids, L-O-V-E, hearts, Ichthus, butterflies
Western Mosaics – Texas, cowboy boot, cowboy hat, longhorn
Miscellaneous – treasure boxes, picture frames, mirrors, magnets, flowers, holiday, music, animals, jewelry
Make-a-Mosaic Kits – includes everything needed to create 2 mosaics – bases, tesserae, embellishments, glue, grout and instructions
Public Workshops
Amy teaches monthly workshops at the Richardson Mercantile to the public, where mosaics are uniquely created by you. 
Each month is a different theme. Amy has spent years collecting different materials to put in the mosaics, from plates and china to jewerly pieces and Scrabble letters. All supplies are provided. Workshops are typcically on Saturdays form 1-4 pm. During the workshop, participants select and glue tesserae onto the base. The mosaics are grouted by the instructor and ready for pick up within a week of the workshop. 
To make your reservation, call Amy Glass, 972-746-7002.  
Private Workshops
Amy offers private mosaic workshops to groups of all shapes and sizes. Workshops are held at the Richardson Mercantile or your location. 
Groups range from moms groups to neighborhood groups to corporate teambuilding to family get-togethers and birthday parties.  
Workshops are intended for adults, but children as young as kindergarten can participate with adult guidance.
Private workshps are similar to public workshops, except the group chooses the theme and the location can be flexible.  
Locations
Broken By Design Mosaics has two locations:
Richardson Mercantile (908)
101 S. Coit Rd, Richardson TX
972-479-9990
Lone Sar Mercantile (J5)
2031 W McDermott Dr., Allen, TX 
972-332-8744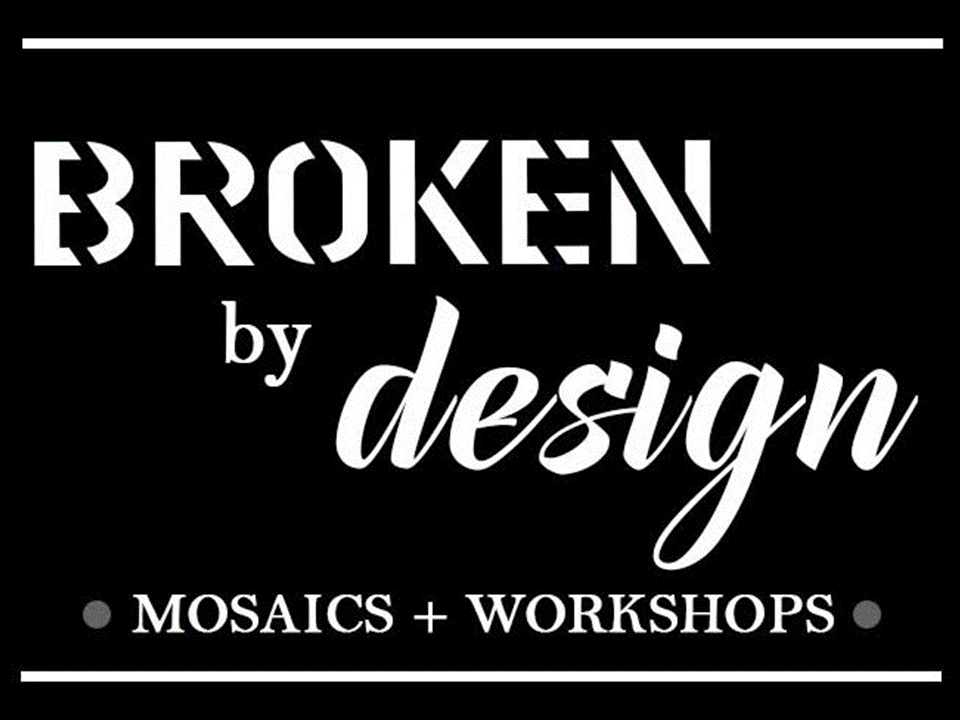 Store Hours
 Monday - 10am - 7pm
Tuesday - 10am - 7pm
Wednesday - 10am - 7pm
Thrusday - 10am - 7pm
Friday - 10am - 7pm
Saturday - 10am - 7pm
Sunday - 12pm - 5pm
Broken By Design Mosaics
Broken By Design Mosaics Located at Richardson Mercantile