From the moment her passion for mosaics began, Amy made mosaics custom for various occasions. Customized mosaics can come in all shapes and sizes. It can be a small one with no names or embellishments, or a larger one with everything customized – shape, colors, names/words, embellishmentts, etc. They make a special gift for any holiday, and for almost anyone. 
Here are some examples when a customized mosaic hits a home run in gift giving.
Wedding – heart, last name initial or cross with couple's names, year and embellishments
Baby Shower Gift

 

– nursery theme shape or letter of child's first name with embellishments

Birthday – any shape, any design, any embellishment

Mother's Day – heart or other base with children's names
Father's Day – heart or other base with children's names
Grandparent's Day – heart with names of grandchildren
Child Memorial – heart or butterfly with child's name and date
Pet Memorial – dog bone with name/year of dog(s)
House Numbers

– individual numbers or on a rectangle base, for covered porches only

Sports Player – soccer ball, baseball or other sport-related base, add name and player's number
Graduation –

initial letter with embellishments or college mascot/symbol

Valentine's Day – heart or other base that would speak love to someone
Think of a customized mosaic that you'd like to order today? Contact Amy @ 972-746-7002 or bbdmosaics@gmail.com to order yours today. Mosaics are ready within a week of payment. Or, create one yourself. Have a special occasion coming up? Make your reservation at Amy's next workshop. 
Here are some customized mosaics that have come out of my studio. Some I made and some guests in my workshops have made. 
Locations
Broken By Design Mosaics has two locations:
Richardson Mercantile (908)
101 S. Coit Rd, Richardson TX
972-479-9990
Lone Sar Mercantile (J5)
2031 W McDermott Dr., Allen, TX 
972-332-8744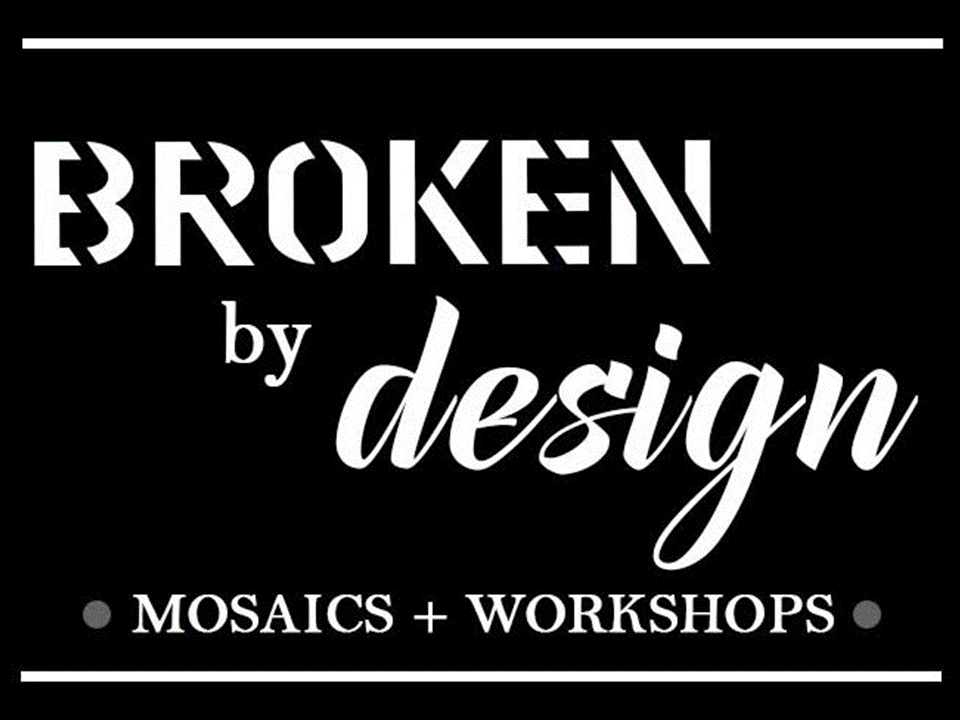 Store Hours
 Monday - 10am - 7pm
Tuesday - 10am - 7pm
Wednesday - 10am - 7pm
Thrusday - 10am - 7pm
Friday - 10am - 7pm
Saturday - 10am - 7pm
Sunday - 12pm - 5pm
Broken By Design Mosaics
Broken By Design Mosaics Located at Richardson Mercantile