Join Amy Glass, local mosaic artist, for one of her amazing mosaic workshops. Amy has been teaching others to make mosaics since 2007 and loves watching people tap into their creative side – regardless their ability. 
What to expect at a workshop
All supplies are provided, and the best part – Amy grouts your mosaic for you! At a workshop, you pick out the base and all the tesserae (broken dishes, tiles, and embellishments). After she gives instructions, you glue the pieces onto the base. Amy offers encouragement along the way. When the workshop is over, Amy takes the mosaics, allows time to dry and grouts them. Mosaics are ready for pick up within a week of the workshop. Workshops are typically held on Saturdays from 1-4 pm at the Richardson Mercantile (101 S. Coit, Richardson, TX 75080).
SUPPLIES
Base – Amy has

over 100 different shapes

, which she cuts from various types of wood. She loves taking discarded or scrap wood and making it into something beautiful. Each base is unique because she hand-cuts each one. No two bases are alike. 
(1) Western – Texas (2 sizes), cowboy boot, cowboy hat,
      longhorn (2 sizes), Oklahoma, Arkansas, star (2 sizes)
(2) Faith – cross (3 sizes, many different shapes), angels 
     (2 sizes), star of David, crown, ichthys
(3) Music – treble clef, music note, piano, guitar (2 types),
     piano, drum
(4) Insects – butterflies (5 types), ladybug, dragonfly
(5) Birds – parrot, owl, hummingbird, partridge, eagle,
     cardinal, penguin
(6) Animals – dogs (6 types), cat, gecko, elephant, chicken,  
     pig, dolphin, shark, fish
(7) Hearts/LOVE – hearts (2 sizes), elongated heart, curved
     heart, open heart, double heart, L-O-V-E
(8) Miscellaneous – teacup, teapot, USA, flag (Texas or USA),
     house, chess knight, cancer ribbon, star, picture frame,
     flower, tulip, birdhouse
Glue – Tacky glue is used for indoor projects.
Tesserae – Amy has spent over 10 years collecting and gathering all types of tesserae to create her extensive collection. 
(1) Dishes, china, tiles are smashed into pieces and tumbled in
      a rock tumbler (or hand nipped), so fingers do not get cut.
Colors/types include:
* Primary colors – red, yellow, blue
* Secondary colors – purple, orange, green
* Other colors – black, white, gray, teal, cream, dark brown,
   mix, warm mix, bright mix
(2) Embellishments
* Jewelry – costume jewelry, silver charms, watches, pearls
* Glass Gems – clear, colored, frosted, marbles, glass balls,       
   cracked, shaped gems
* Miscellaneous – shells, game pieces, plastic animals, mirror,
   rocks, polished rocks, coins, bottle caps, buttons, coins (foreign & pennies), mirror and more
(3) Letters – 9 types of letters for writing names or phrases 
     (including Scrabble)
Cost: $35/paticipant ($25 foralumni )
Don't Delay, Sign Up Today!
Space is Limited!
 To make your reservation, call Amy @ 972-746-7002.
Have questions? Email Amy @ bbdmosaics@gmail.com.
Want to bring a group of 5 or more? Ask Amy about a group discount!
Private groups are also available – your place or mine! You choose the base and grout, and I provide all the rest. 
Locations
Broken By Design Mosaics has two locations:
Richardson Mercantile (908)
101 S. Coit Rd, Richardson TX
972-479-9990
Lone Sar Mercantile (J5)
2031 W McDermott Dr., Allen, TX 
972-332-8744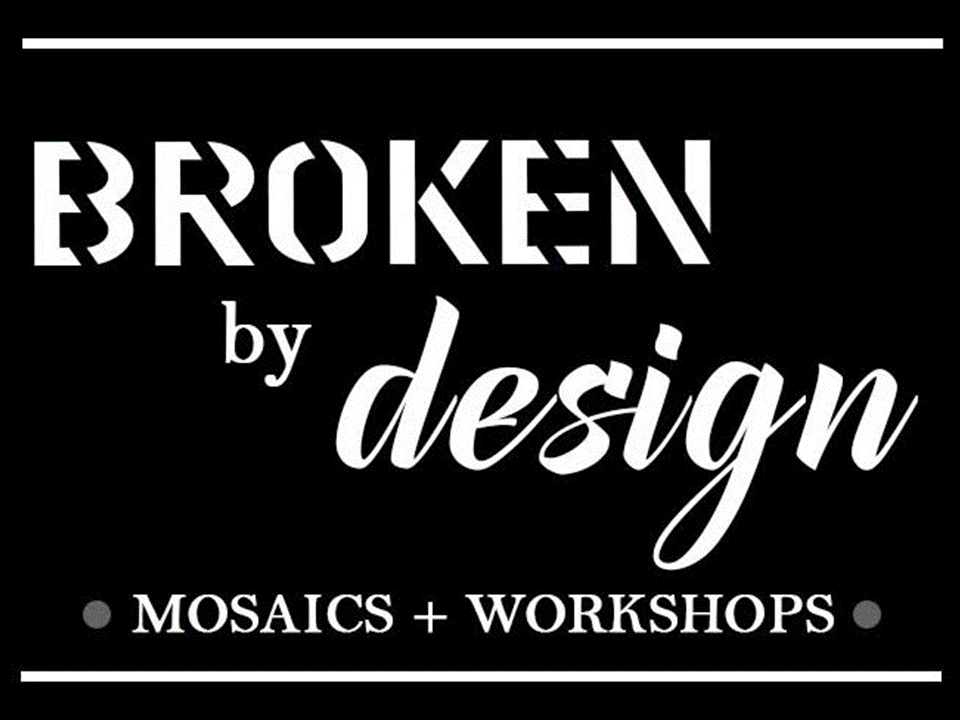 Store Hours
 Monday - 10am - 7pm
Tuesday - 10am - 7pm
Wednesday - 10am - 7pm
Thrusday - 10am - 7pm
Friday - 10am - 7pm
Saturday - 10am - 7pm
Sunday - 12pm - 5pm
Broken By Design Mosaics
Broken By Design Mosaics Located at Richardson Mercantile